Contact Us
Contact Our Southwest Florida Probate Trial Lawyers
Our Convenient Office Locations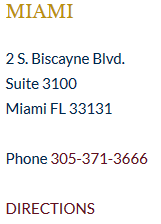 ---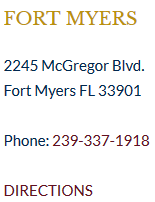 The legal team at SW Florida Probate Trial Lawyers represents clients throughout the southern region of Florida involved in substantial probate, trust, and estate disputes. The legal professionals in our locations work together as a cohesive team to deliver outstanding service and seamless representation to all of our clients.
If you are involved in a serious dispute over a will, trust or other estate-related matter, our team of litigation attorneys can handle your complex probate or trust case. Our lawyers have more than 200 years of collective experience litigating complicated civil cases. We are a highly accomplished group of attorneys that are widely recognized for our legal knowledge, professionalism and dedication to clients.
Whether you are a plaintiff or a defendant, our probate and trust litigation firm has the skills and resources necessary to handle your case. Our attorneys aggressively advocate for clients in all types of estate litigation matters, ranging from will and trust contests to cases involving guardianship disputes and breach of fiduciary duty claims. Our clients include beneficiaries, personal representatives, trustees, heirs and other parties involved in complex probate, trust, guardianship and inheritance-related disputes.
We serve clients throughout Southwest Florida, including Fort Myers, Naples, Cape Coral, Punta Gorda, Bonita Springs, Charlotte County, Lee County and Collier County.
We Will Give Your Case the Resources and Attention that it Deserves
At SW Florida Probate Trial Lawyers we are a small team of committed professionals who are driven to achieve the best results possible for you and your family. Our firm is selective about the cases we take in order to provide the personalized service and attention you deserve. Our Southwest Florida probate attorneys appreciate that every probate and estate dispute is unique. We will evaluate your situation on an individual basis and tailor our legal representation to best meet your needs and objectives. Our legal team understands that tensions and emotions run high in these types of situations and we want to make the legal process as easy as possible for you.
SW Florida Probate Trial Lawyers focuses its representation on complex wills, trust and estate related litigation that typically involves substantial property and assets. Our Southwest Florida probate lawyers work one on one with clients throughout the entire course of their case. We know that probate, trust and other estate related litigation can be complicated and stressful. We will carefully explain everything that is happening in your case so that you can make the best decisions for you and your family. Your case is very important to us and we want you to feel comfortable and confident with our representation every step of the way.